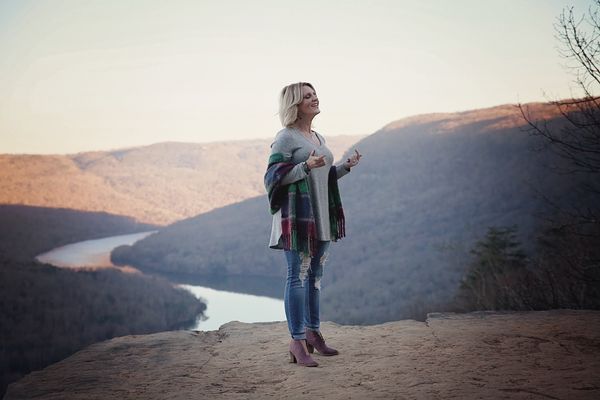 On Thursday, February 1, 2018 I released the song, "When The Mountain Can't Be Moved".  How appropriate that the February 1st, Jesus Calling devotion was this:
Follow Me one step at a time. That is all I require of you. In fact, that is the only way to move through this space/time world. You see huge mountains looming, and you start wondering how you're going to scale those heights. Meanwhile, because you're not looking where you're going, you stumble on the easy path where I am leading you now. As I help you get back on your feet, you tell Me how worried you are about the cliffs up ahead. But you don't know what will happen today, much less tomorrow. Our path may take an abrupt turn, leading you away from those mountains. There may be an easier way up the mountains than is visible from this distance. If I do lead you up the cliffs, I will equip you thoroughly for that strenuous climb. I will even give My angels charge over you, to preserve you in all your ways. Keep your mind on the present journey, enjoying My Presence. Walk by faith, not by sight, trusting Me to open up the way before you.
You see, my husband and I had been face to face with a Mountain on April 1, 2016, the night he had a stroke.  At 11:50pm that evening, our whole lives changed.   What we had accomplished with our careers....didn't matter.  What we had accomplished financially...didn't matter.  The music tours, the gospel charts, the music video's, the accolades, the nominations, the promotions, the vacations, all these things no longer mattered.  What did matter was my husband, his health and my family.  What mattered after that night had nothing to do with music anymore, nothing to do with "me" but everything to do with my husband and this unexpected journey...so I walked away from what I had been chasing for 16 years.  You are probably scratching your head thinking, "well, if she walked away from music...why is she still in music?"  Good question....I've asked this question several times and the only answer I have is "God".  You see....I decided that I was stepping away from music, I decided I had done enough in music, but that was not God's plan.  God's plan was to use Ward's stroke in ways that only He could do.  
So, what do we do?  We follow Him one step at a time.  We face mountains and stumble and God helps us up.  We worry in fear of what will come, we worry that it's too hard or if there is an easier way but all God requires is for us to follow him...even if it is a strenuous climb, up a very steep unexpected mountain and we rejoice when we are standing on the other side and see in hindsight He was there all along guiding us, protecting us and preparing us for what was to come.  God slowed us down, gave us restoration, rest and healing to be ready for this next chapter that we could only take having gone through what we've gone through facing that mountain.  
So one year ago today, I released "When The Mountain Can't Be Moved". Not only was it God's plan to bless me with my first Top Ten song in Singing News Magazine (a song that would have never been written without the events of April 1, 2016), the song that had such a great reaction that we had to rush to create an album around it.  That album, "Me, Jesus, & the Highway" became the story of hope and healing in the face of adversity of the events of that night and now I share that story with others.  That story continues to grow, as I'm now celebrating my second Top Ten Song in Singing News Magazine with "Hide Me Behind The Cross".  So as it says in the devotion above... I'm trying to keep my mind on the present journey, enjoying God presence, trying to walk by faith, not by sight and trusting God to open the way before me.